Welcome to Joel Confer BMW!

Established in 1978 by Joel Confer and Ronald Rehmeyer, Joel Confer BMW has been the Centre Region's exclusive BMW dealership. Since 1978 the dealership has remained in continuous ownership, and since that time has earned recognition on a national scale . In 2008 Joel Confer BMW was awarded the prestigious Center of Excellence Award. This award is presented annually by BMW of North America to recognize sales leadership with the highest level of customer satisfaction. The award is presented to only 31 of the 338 BMW centers nationwide.
The Center of Excellence Award recognizes the entire team at Joel Confer BMW for providing extraordinary client care and for demonstrating a high level of excitement and enthusiasm for the BMW brand. BMW customers nationwide are given an opportunity to evaluate their sales and service experience at BMW dealerships via an independent survey.
In addition, the Joel Confer Team has received numerous accolades recognizing extraordinary service and skill. Marlin Burns, our Master BMW technician, has been recognized by the National Institute of Automotive Service Excellence as Technician of the Year. Center Operator Ronald Rehmeyer and Sales Manager Mark Noel, who are annually nationally recognized, combined have over 50 years of experience with BMW, providing our clients with unparalleled service and standards.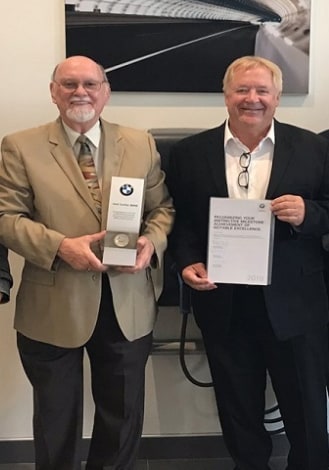 Joel Confer, left, and Ronald Rehmeyer, right, accept the 40 years of Brand Excellence award from BMW of North America.